Polar RC3 GPS Review
From Fellrnr.com, Running tips
Revision as of 16:14, 1 November 2014 by User:Fellrnr
(User talk:Fellrnr | contribs)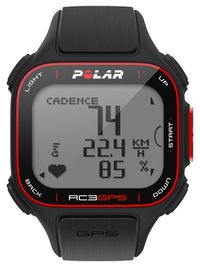 The Polar RC3 GPS is Polar's first sports watch that has an integrated GPS, rather than requiring a separate box. In many ways, it's quite nice unit, but it's not quite as good as the cheaper Garmin 310XT.
1

Polar RC3 GPS Pros
Over the years I found the quality of Polar accessories to be much higher than Garmin. I've never had a Polar accessory fail on me, but I'm currently on my fourth Garmin chest transmitter and my third Garmin Footpod.
I've had a few issues with the accuracy and reliability of the Polar Heart Rate Monitoring, but I've had to create a page dedicated to solving issues with Garmin Heart Rate Monitoring.
It's available in several colors.
2

Polar RC3 GPS Cons
The biggest flaw in the RC3 GPS is that it's not quite as good as the cheaper Garmin 310XT.
It's much harder to get your data from a Polar device to the various training software that's available. Often you have to convert the files from the Polar format to TCX, and the best tool I've found is TcxCreator.
It's only waterproof to IPX7, which 3'/1m for 30 minutes. It might be showerproof, but not much more than that.
3

Comparison Table
I evaluate running watches in three distinct ways. Firstly, you can use a watch on its own, without any kind of Footpod. This is probably the most common way runners use their watch, but you miss out on a lot. The second rating is with a standard Footpod that is available quite cheaply. These Footpod's can be reasonably accurate once the calibrated, but calibration is a little tedious. The final evaluation is with the Stryd Footpod, which is vastly more accurate than any other type of Footpod, or and more accurate than GPS. The table below looks at the score, and the value for money of each watch for each of the three conditions. (I've also tested the Apple Watch 3, but I've not included it in these tables as it's not really a running watch.)
The score is the sum of how well each watch can answer the four basic questions (how far, how fast, where are you, what's your cadence), plus some bonus points.
The "How far you've run" will be based on GPS only for "without Footpod" and "with Standard Footpod", but based on Stryd if supported in the "with Stryd Footpod" table..
How fast you're running assumes you're using a Footpod if it's supported, otherwise the rating is 0-2 based on GPS accuracy.
The "Where are you?" is based on various navigation features such as back to start, breadcrumbs, and preloaded maps. For some watches, you have to turn GPS off to get the benefit of Stryd, so those watches have worse "where are you scores" with Stryd than without.
The cadence score uses 1 point for an internal cadence sensor, 2 points for footpod support, 1 point for support from chest strap cadence, and 1 point for cadence alerts.
I give 1-2 bonus points for application support, 1-2 bonus points for data upload, 1-2 bonus points for Optical Heart Rate Monitoring, and 0-1 bonus points for battery life.
Value for money is the score divided by the price (at the time I last updated the table.) Your needs may be different, so you might weight the different aspects of the watches differently, or be basing your decision on different criteria totally. Hopefully this table will give you a good starting point for your decision.
3.1

Score Breakdown without a Footpod
3.2

Score Breakdown with a Standard Footpod
3.3

Score Breakdown with a Stryd Footpod
3.4

Basic Features
For "navigation":
Color Maps gives you full color maps, rather like a smart phone, with roads and paths marked out.
Track Outline is a display of where you've run, rather like a breadcrumb trail. If there are maps, the outline is superimposed otherwise this is just the outline on its own without any context.
Course Outline is an outline of a route that can be downloaded. I've found this useful during ultras or in unfamiliar cities where I've needed to know where to go.
Back To Start is a simple arrow point to your starting point, so it won't help you backtrack.
Back To Waypoint returns you to a previously marked location using a simple arrow to point.
Compass. A magnetic compass can help you orient yourself or the map. Without a magnetic compass you have to be moving for the GPS to give you a sense of direction.

(Older Reviews: Polar RC3 GPS, Soleus 1.0, Motorola Motoactv.)