A review of graduated compression wear
From Fellrnr.com, Running tips
Revision as of 20:01, 22 March 2012 by User:Fellrnr
(User talk:Fellrnr | contribs)
I've tried a number of different graduated compression bottoms for both recovery and training. I was initially skeptical of the benefits of compression clothing, but I've become a believer over time. I'm not sure there is a significant improvement in aerobic capacity while wearing graduated compression tights, as it is hard to measure this accurately. However, they do seem to improve comfort and reduce leg pain. Over longer distances, this improvement in comfort may translate into a faster time. I have found that wearing compression clothing does make a significant difference to recovery. Compression tights reduce discomfort while they are worn, and they also reduce overall recovery times. For more details, see Why compression clothes.
1

Training Tights
These are my preferred running tights, with a useful level of compression. I've worn these for recovery until my wife added in some extra pockets in the back from some old Race Ready shorts. The latest version of these tights come with a key pocket, and a waistband with a fastening cord. Like all graduated compression tights, they do tend to slip down slightly, but the waistband keeps them in place. I find they are far more comfortable than Form Fitting tights and I miss them if I run in my 'ordinary' tights.
The Saucony training tights are higher compression than their recovery version, but less pressure than the Zoot Active, and similar to the 2XU. These are the only compression tights I've tried that have an ankle zipper, which is rather nice. I like these tights, but the lack of waist band is annoying as they tend to slip down while running. These are one of the few compression tights with a pocket, which is zippered and in the small of the back.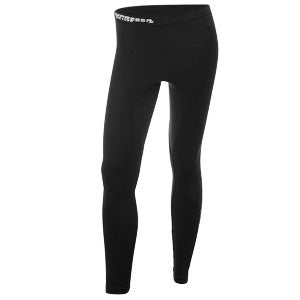 These tights offer high levels of compression and use a variable weave to apply the different pressure to specific areas. The tights are a little tricky to put on, and the lack of distinct waistband causes them to slip down more than the Saucony. Like the 2XU there are no pockets, but there is also no waistband. This means pulling them up periodically, which is a distraction. While I liked the high compression, the extra tension made them slip down too often to be viable. If Zoot changed the design to include a waistband, I order a pair immediately. These may be worth trying to see if they stay up for you (Runningwarehouse.com has free shipping both ways).
1.4

CW-X Tights

I used the original CW-X tights and they do provide a little more compression than Form Fitting clothes. The CW-X tights provide most of the extra pressure along certain lines, indented to help align muscles and bones. I found that the pressure provided had marginal benefits compared with Form Fitting tights and nothing like the 2XU or Zoot tights.
2

Recovery Tights
These are my favorite recovery tights. They have mild compression and are remarkably comfortable. As recovery tights, there is no waistband. I wear these during the day under jeans and sometimes sleep in them. They are made of a material called Cellaint that claims to have special properties that help reduce pain, with some reasonable science based on treatment of diabetic patients. I'm not sure if it's the material or the design, but these are by far the most comfortable compression wear I've come across. There is a workout version of these tights that have somewhat higher compression and a waistband that I've not tried.
These tights have the highest compression of any I've tried. They include compression over the foot and a complex weave that varies the level of compression over the leg. This includes lower compression over the kneecap for instance. These are less comfortable than my Saucony recovery tights, but the higher compression makes them worth owning. I found these tights too low rise, with a baggy waistband so they tend to slide down more than any other tights I've tried. I had to sow tucks into the waistband so that I could wear them without having to continually pull them up.
These tights have similar compression to the Saucony tights, but with foot compression. They are also thinner than the Saucony so they are cooler, but not as comfortable. I did not get on with these tights and sent them back.
3

Calf Sleeves
These calf sleeves do not seem to have sufficient compression to make much difference in training or recovery. I no longer use these sleeves.
These sleeves work well, with good compression. I have the version with the stirrups, and I found that the bottom of the sleeve presses on my Achilles' tendon. This pressure caused me heel issues, so I no longer wear these. The white color is good in hot conditions.
4

Medical Compression Socks
My first test of compression socks used some medical compression socks from a local pharmacy. These helped recovery, but I found the compression of the foot too high. Simply cutting the feet off produced a cheap and cheerful calf compression sleeve.